!-MSDEQD.HTML-->
State of the Art Classic Effects for Musicians 1.2007

Date: 7.07 Hardy Kurandt



---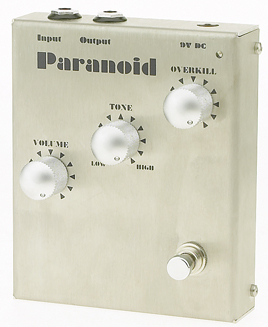 Paranoid PDI I

Sabath-Style-Fuzz PARANOID RETRO FUZZ Do you prefer the sound of an Orange to a Vox? Were you more excited about the Ozzy reunion w/Sabbath than David Lee getting back w/VH? Would you rather have seen Tony at MSG than Jimi at Berkley? If youıre not the typical guitarist, then why settle for the typical gear choices? The Rock N Roll Doctors at Germanyıs Musician Sound Design have found the cure for your ills, and it comes in a little silver box called the PD-1 Paranoid. As the name implies, the Paranoid was designed to reproduce the massive, syrupy thick guitar tones of Black Sabbath legend Tony Iommi circa the first four Sabbath studio albums. Three simple controls initiate the mere mortal to this netherworld of tone.ll The PD-1 is hand built in Germany and features the highest quality components available such as a 14-gauge stainless steel chassis which helps eliminate noise, a Blue LED status indicator, and mechanical true bypass switching (not that you will ever shut it off!). The Paranoid is covered by a one-year parts and labor warranty. When youıre ready to sell your soul for Rock and Roll, the Musician Sound Design PD-1 Paranoid is your one-way ticket to an eternity of tone!
Dimensions: W 11,5 x D 13,7 x H 5,5 cm

press release:
guitar world: "All in all, the Paranoid is essential for stoner rockers or anyone hoping to get the heavy but midrange Lanley-style clipping that defined Sabbathıs early records.
Iron Man lives again."
(September 2004, S.164, James Rotondi.)



All Files played by Borislav Mitic.

Last File played by ED recorded with Marshall JMP I Studio Pre Amp İ Marshall Amplification,
Clean Channel,Output Speaker Simmulation.


---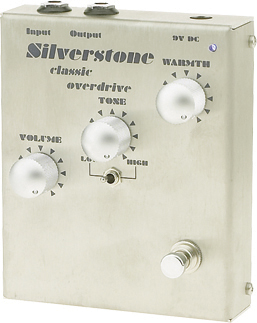 Silverstone

Our top-seller in Germany!!!

Named for the classic British racing hot-rod, Silverstone produces scorching, full-throttle tube-amp overdrive with an open, full-frequency response. Volume, Tone and Warmth controls provide a variety of overdriven tones, from clean boost to punchy, powerful saturation, all with amazing dynamic response. Low/High tone switch allows the ŒStone to be used with Bass as well as Guitar. In the race for great tone, there can only be one winner drive the Silverstone to victory!
Dimensions: W 11,5 x D 13,7 x H 5,5 cm

press release:Bassprofessor 1.05.
The Musician Sound Design Silverstone is a real prof-unit. Itıs perfect for classic metal-sounds like "Rage against the Machine" or heavy and stiff Nu-Metal-riffs.
Itıs not only an effect unit, but nearly like a real valve preamp with the sound of a big tube amp top.



---
Copyright İ 2007 Musician Sound Design. All rights reserved.