Three function selectors vary the filter circuitry directly and offer a host of sound variations:- hot, funky sounds, biting heavy riffs and out-of-this-world Space effects. The Earth and Quake selectors can be used in combination to produce a total of 12 sound configurations. The Earth selector switches between three different frequency ranges and the Quake knob is responsible for the "Q-Factor" - altering the band width of the filter. The mini switch lets you change instantaneously between Modern and Classic modes, where "Classic" represents the familiar wah-wah effect while "Modern" supplies the opportunity to create new and subtle variations by mixing the effect signal with the original input. The mode is indicated by means of the LED. For the Modern mode a trimming potentiometer on the circuit board governs the mix between the original and effects signals.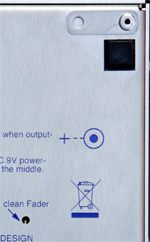 QuakeMachine MKII features include:
Stainless Steel Chassis
Metal Pots and Switches
Electronic True Bypass Switch
Two paralell outputs for easy operation..tuner..
9 VDC Jack
Easy-access battery compartment
Technical Specifications:
Power supply: 6 - 18 V DC normally 9 V DC.
Power consumption: 2,7 mA.
Weight 1,8 KG
Dimensions: B 13,0 x T 24,5 x H 5,7cm



press release:

Gitarre&Bass 12/98 ...a multitude of possibilities...convincing by virtue of optimising the wah-wah effect for bass instruments and by its low-noise characteristics.

EarthQuake MKI Bass Player Magazin, date 8.2003, press archive engl.

EarthQuake Revolution BassProfessor, date 3.2005, press archive germ.